2019 Volkswagen Jetta vs 2018 Honda Civic
2019 Volkswagen Jetta vs 2018 Honda Civic
In the sedan segment, two of the top competitors that drivers will see include the 2019 Volkswagen Jetta and the 2018 Honda Civic. But which one should you purchase? Comparing the 2019 Volkswagen Jetta vs the 2018 Honda Civic all comes down to reliability and feature availability.
When it comes to fuel economy, the 2019 Jetta slightly edges out the 2018 Honda Civic. While both received equal efficiency ratings by the Environmental Protection Agency, a combined city/highway rating of 34 miles per gallon, the 2019 Jetta has the superior travel range. The 2019 Jetta has a driving range of 396 miles in the city and 514.8 miles on the highway. In comparison, the 2018 Civic's driving range is 284.4 miles in the city and 496 miles on the highway.
---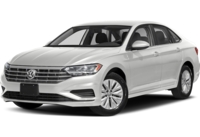 Our Discount
May Not be Combinable with Special Lease and Special Finance Rates, See Dealer for Details
Roof Rack Shown
Optional Dealer Installed Accessory Shown
Questions?
---
| 2019 Volkswagen Jetta | VS | 2018 Honda Civic |
| --- | --- | --- |
| 396/514.8 miles | Driving Range (Cty/Hwy) | 384.4/496 miles |
| Available | Digital Gauge Cluster | Unavailable |
| 8-in. Display | Touchscreen Size | 7-in. Display |
| Available | Adjustable Ambient Lighting | Unavailable |
2019 Volkswagen Jetta Interior Technology Features
One major area where the 2019 Volkswagen Jetta overshadows the 2018 Honda Civic is technology. There are numerous advanced interior features available for the 2019 Jetta that are not available for the 2018 Honda Civic. 2019 Jetta SEL and SEL Premium models add Volkswagen Digital Cockpit, a digital gauge cluster with multiple modes and a customizable layout. The 2018 Honda Civic does not have an equivalent feature.
Another technology feature found in the 2019 Jetta but missing from the 2018 Civic is adjustable ambient interior lighting. This system, added in the SEL and SEL Premium trims, allows drivers to choose between ten colors for a customized ambient lighting experience. In addition, an eight-inch touchscreen interface is available for the 2019 Jetta, while the 2018 Civic's largest central display is only seven inches.
2019 Volkswagen Jetta safety features include: Rear door child safety locks, daytime running lights, traction control, a post-collision safety system, tire pressure monitoring, child seat anchors, LED headlamps, dusk sensing headlamps and stability control.
---