Features of the New Volkswagen Atlas Cross Sport GT Concept
The unveiling of the all-new Volkswagen Atlas Cross Sport GT Concept has led to some seismic shifts in the automotive industry. This glorious SUV, assembled in Chattanooga, comes with a hoard of technology updates and a refreshing design in a color that has not much been explored before. Among the various features of the new Volkswagen Atlas Cross Sport GT Concept, a modified 2.0-liter TSI® engine and its striking Eisvogelblau color are the ones that have been piquing the interest of automobile enthusiasts. If you are planning to get behind the wheel of this amazing SUV or any other latest Volkswagen model, check out the inventory at Mac Volkswagen in McMinnville, OR.
The Beautiful Eisvogelblau Color of the Atlas Sport GT Concept
As mentioned earlier, the Eisvogelblau color of the new Atlas Cross Sport GT Concept that translates to "Kingfisher Blue," has been the center of several discussions and for the right reasons. The color is nothing like anything anyone has seen before and dominates the insides of the car in just the right proportions. The seats, safety belts, and most of the other things inside the cabin are accentuated with the Eisvogelblau color, thus, enhancing the overall look and feel of this midsize SUV.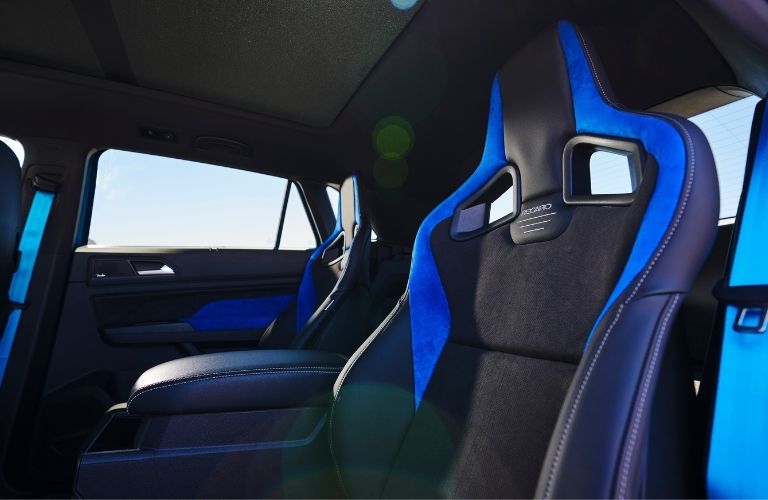 ---
(You may want to read: Is the 2021 VW Atlas different than the 2021 VW Atlas Cross Sport?)
---
What's Under the Hood of this SUV?
The new Volkswagen Atlas Cross Sport GT Concept comes with a version of the EA888 2.0 TSI engine and an IS38 turbo. With a power output that goes above 300 HP and a seven-speed DSG® automatic transmission, this SUV is not just spectacular looking, but also incredibly powerful. The GT Concept also has a front-mounted radiator. These are some of the features that make the GT Concept one of the best SUVs to drive home today.
A Custom Interior Seating Layout Worth All the Hype
Besides its distinctive color and incredible performance specs, the Atlas Cross Sport GT Concept also offers a custom seating layout. The center console ramps up the comfort levels and the storage compartment of the SUV has safe and easy-to-use USB charging ports.
Find yourself interested enough in the new Volkswagen Atlas Cross Sport GT Concept? Wait no more and contact a representative at our dealership to learn more about the same.
More from McMinnville Volkswagen